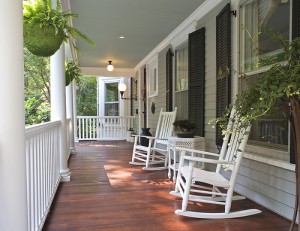 It is no secret that I am a very Southern girl.  I hold many Southern ways close to my heart: I speak with a Southern accent; prefer a slower pace; and serve my chicken fried.  I am writing from my front porch while sipping sweet tea (seriously).   There are however, some parts of Southern heritage that I do not and will never hold dear.
I just saw the hit move The Help.  I did not read the book although I plan to on my next vacation.  For those of you who are unfamiliar with the story, it is set in Jackson, Mississippi in 1962 .  The book and movie chronicle the lives and relationships of middle-class  white women and their black domestic help.  What hit me, and turned my stomach, was the reality that although the laws regarding segregation were changing during that time, the hearts of many people were not.  I had to ask myself, "Would I have been that white, southern *itch or would I have been the sympathizer risking her reputation to give someone else a voice?"  Of course I hope I would have been the sympathizer.
The shameful characters in the movie were in that day "above the law."  I suppose that puts the heroines of the movie, the black help, on the south side of the law.  Have you ever spoken up for someone on the south side of the law?  If you have not, think about giving it a try.
Those of us working in the legal profession can speak a foreign language (legalease); we know the customs of a foreign culture (the court system).  Our knowledge and expertise in the legal system give us a unique opportunity to help others.
Everyone acknowledges that they should do pro bono work, but it should not be done out of an obligation.  Volunteering should be done out of compassion and a sense of justice.  Search  for what stirs up indignation in your heart – it probably has to do with someone on the south side of the law.  Use your voice (and your brain) to give them a voice. If you need some inspiration, go see The Help.
Postscript:  I do practice what I am preaching.
I work as a volunteer Victim and Witness Advocate as well as serving on the local Domestic Violence Task Force.  I was recently selected as the community representative to review and approve the  Sexual Assault Victim Protocol used by local  law enforcement. It is worthwhile work.
Photo: sonjalovas