Do you know someone who has been a victim of a crime?  If you answered no, you are probably wrong.  Statistically speaking, you most likely have a friend, a relative, a co-worker, or a neighbor who has been the victim of a crime.   Perhaps you have been a crime victim yourself; if so, do you know your rights?
The Office for Victims of Crime has held a National Crime Victims' Rights Week (NCVRW) each April since 1981 to promote victim's rights by educating the community, honoring crime victims, and recognizing those who advocate on their behalf.  For 2012, that week is April 22-28 and the theme is "Extending the Vision: Reaching Every Victim."
I would like to share a few crime statistics with you from  The National Crime Victimization Survey.  Remember, these are not just numbers they are people.  These people make up your community, your world.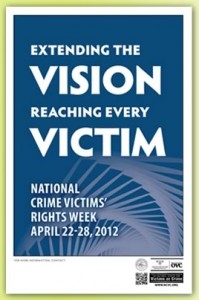 During a one-year period, 60.6 percent of children and youth from birth to 17 years of age experienced at least one direct or indirect (as a witness) victimization.
During 2010, 92,865 persons over the age of 65 were victims of violent crime.
Youth ages 12 to 19 with disabilities experienced violence at nearly twice the rate of those without a disability.
During a one-year period, 3.4 million people ages 18 or older in the United States were stalked.
According to the U.S. Department of State, there "are as many as 27 million men, women and children" in forced labor, bonded labor, and forced prostitution around the world.
During 2009, approximately 1,770 children died due to child abuse or neglect. 80% of those were under four years of age.
More then 25% of persons with severe mental illness had been victims of a violent crime during a single year, a rate more than 11 times higher than that of the general population.
Of female murder victims in 2010, 37.5% were killed by a husband or boyfriend.
In 2009, there were 10,839 alcohol-impaired driving fatalities (32% of all traffic fatalities).
In 2010, an estimated 8.1 million adults became victims of identity fraud, down from about 11 million in 2009.
In 2010, victims age 12 or older experienced a total of 188,380 rapes or sexual assaults.
In 2010, 9.5% of 8th graders, 18.5% of 10th graders, and 23.8% of 12th graders reported illicit drug use in the past 30 days.
Of 2010 workplace homicides, 79.3 (401) were shootings.
Now, remember that only about half of crimes committed are actually reported.
As legal professionals, but also as human beings we need offer our help to those who are in these difficult situations.  My friends and regular readers know that I advocate doing pro bono work for both professional and altruistic reasons, but here is a selfish reason: it gives you perspective.  Whether life is a bowl of cherries or the pits for you right now, you will gain a healthier perspective on life, yourself, and the world as you help someone else make their life a little better.
Life perspective is powerful; it affects everything you think, do and say.  Who or what is influencing your perspective? If you need to shift your perspective here is a shortcut: help someone less fortunate than yourself (it's cheaper than therapy).