A great resource for essential paralegal skills and training.
If you don't sharpen your paralegal skills now, you will hate yourself later.  No matter how much or how little experience you have as a paralegal, you need to always be moving forward by acquiring more skills to make you as indispensable as possible.  In this article, I am going to share  a great resource for litigation paralegals; some very exciting news; and a discount code.  Please note that I am sharing this information for your career advancement; I do not have any affiliation with theses resources and do not receive any type of remuneration.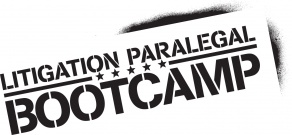 Last week I attended the Georgia Association of Paralegals  Spring Seminar where I soaked up lots of great information during a condensed version of  "Litigation Paralegal Boot Camp."  The class was taught by Ann Pearson, a highly experienced litigation paralegal and former paralegal manager.  The single most impressive aspect of the boot camp was the absolute practicality of the material.  The  boot camp provided real-world, in-depth, and highly-effective skills for paralegals. I immediately knew I wanted to share this with my readers.
The Litigation Paralegal Boot Camp will be holding workshops in Charlotte, Atlanta, New York, Chicago, and Jacksonville.  Essential Skills Workshops include the following topics: case management principles; drafting discovery; deposition preparations; document reviews and productions; privilege logs; pretrial preparation; the paralegal's role at trial; time entry drafting skills; and paralegal career advancement.  Click here for more information.
There are also upcoming Online Boot Camps:  E-Discovery Project Management for Paralegals on April 24;.  Trial Preparation Skills for Paralegals on May 1; Becoming the $100,000 Paralegal on May 8; and Managing the Document Review Project on May 10. You can register here.
Additionally, Pearson Resource Management is kindly offering my readers a savings of $20 on any boot camp event, live or online.  Simply enter LegalKick20disc (case sensitive) at checkout.
Now for some exciting news…PRM will be awarding a scholarship for each of its live workshops in the cities listed above.  The application process includes a short essay on why you chose the paralegal profession and how you would "pay it forward" to the profession if awarded the scholarship.   It is a great opportunity for the unemployed or  those whose employers do not pay for training and continuing education. You can find more information here.
Remember, we all need to invest in our paralegal careers. Don't miss any articles that will help you further your paralegal career.   Subscribe to the Atlanta Paralegal Services blog here and receive free updates  I always respect your privacy.